Benjamin got up and announced that he was going to smell the weather …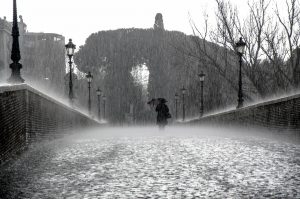 I watched in surprise as he went out of the room. When he came back I asked him what kind of weather he had managed to 'smell'? He replied "Weather that's full of light after three days of rain, bathed in the first rays of the spring sunshine" … Aah.
That poet explained to me later that he experienced everything through the sense of smell. I know most of the population is visual, so here I have a rare specimen indeed. Apparently, he often gets teased about his olfactory experiences.
Ever since then, I wonder when I go out what I will sense in the air. It doesn't come naturally to me but sometimes I feel a sensation that would otherwise have passed me by.
Do we fully use the antenna we have available to be a bit more open to the world?
What about you? If you stuck your nose outside, what olfactory experience would you have?