I've found the perfect office. It's quiet and peaceful, located at 1,000 m above sea level with a stunning view. I lay out my things on the table on the terrace of my hotel and start work.
Time flies by and every time I look up, I'm inspired by the view.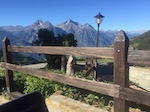 A man who looks a bit like Jean de Rochefort comes up to my table at around 11.30am, a glass in his hand. He asks me if I'm working or if I'm on holiday, all in Italian.
I enter into the spirit and start chatting to him, he corrects me and suggests other ways of saying things, thus contributing to my daily Italian lessons.
An hour and a glass of Prosecco later, he leaves. I don't know the name of this kind pensioner but I know that he has done the St James's Way too. He cycled it with his son from Milan. I also know that he has lived in the mountains since he retired because he loves cross-country skiing and that he has put lunch on to cook for his family.
I rarely spend an hour chatting to a stranger that I'm never going to see again. I realise that I should do it more often.
What about you? Do you take the time to listen to strangers just for the pleasure of it?