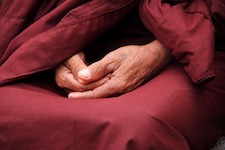 Summer is coming the magazines are full of slimming diets, detox treatments and body sculpting exercises.
Readers throw themselves headlong into the method suggested, get disheartened and give up. Often because they have taken on something that was too ambitious.
Tibetan monks have solved this problem in a different way. When they take their vows, they take the ones they feel capable of keeping. And once they have committed to them, they can no longer change them.
The same applies to New Year's resolutions. Do we make the ones we are capable of keeping? Are we just playing it safe?
What about you? What personal commitment would you like to make?