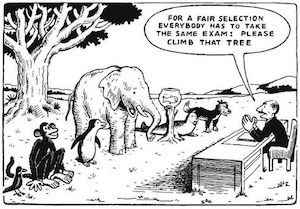 Many of us loved the flying scene with Bernard and Bianca in Walt Disney's The Rescuers. Wilbur the Albatross dons his aviator goggles and takes off with the two mice in a dizzying drop from a New York skyscraper.
Albatrosses are splendid birds: their wingspan, their elegance in flight, their intrepid dives.
Some of us in our areas of interest are albatrosses.
They may have difficulty taking off with their cumbersome wings. On the ground, they are clumsy and awkward, and that's how we think of them. But when circumstances allow them to take flight, they are utterly majestic. Albert Einstein said:
Everybody is a genius. But if you judge a fish by its ability to climb a tree, it will live its whole life thinking that it is stupid.
Who of those around you deserves to be looked at it whilst in full flight?