This simple question has significant implications for our start to the weekend! An egg done sunny side up is very different from a soft-boiled egg or scrambled eggs. The method of cooking will determine not just the taste, but also the texture of our eggs.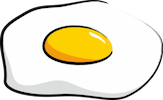 My decision is based on what I want, results-wise. Do I want them crunchy out of a frying pan or soft and liquid in its shell?
But there is more in play than just taste and texture. If I decide I do not want to clean a frying pan in the process, I accept that I won't be able to get anything crunchy.
All of our decisions, large and small, are similar in a way. Our decisions along the way shape the results we get. If we chose the easy way out, the results will be shaped by that.
If we have a clear vision of the result we'd absolutely like to achieve, it'll be self-explanatory what will need to be put in place in order to get there!
And you? What vision do you have in mind? What will it take to make that happen?