After a long day of work, a mother and father sit down with their son for dinner. As part of dinner, the mom presents them with a basket full of freshly toasted bread. Well toasted. So well toasted you might say carbonized instead.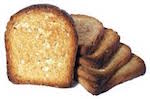 Now, the boy knows that his dad doesn't like his toast this way, and says, « Hey, it's all burned! » His father picks up a piece of the toast serenely and says « Exactly how I like it! » The boy, perplexed, drops the subject, but when it is time to say goodnight comes back to it  « Daddy, why did you lie about the toast »?
His dad smiles wistfully then goes on to explain: « You know, sometimes words can be more harmful than actions. Your mother is just as tired as I am this evening, and as she was a bit off her game she let the toasts burn. I had a choice of harming her with my 'truth' or of lifting her spirits with a benign untruth .
Every day we have this terrible power to harm or to lift people up with our words. As you know, I particularly value honesty in life. But isn't it a form of honesty to love mommy more than a stupid slice of toast?  »
So when did you last embellish the truth for the people you love?