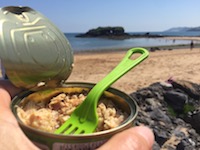 I jog and listen to a book at the same time thanks to my headphones.  I take a plane and learn how to use new tools thanks to my Kindle.  I spend my time slotting my professional, family and personal activities into one another like a giant game of Tetris so that I'm always doing more things more quickly and all at the same time.
In other words, I'm often phenomenally efficient, and obsession tends to generate more obsession.
But what happens when the noise stops?
During my 6-week hike this summer, all I did was put one foot in front of the other. No headphones. Silence around me. Silence inside.
Picnicking alone. A sea view. No books. No conversations. Even a tin of tuna tastes different under such circumstances.
Having got a taste for doing just one activity (as well as for tuna), I now feel that I'd like to be more present in my everyday activities.
What about you? What single activity would you like to spend your time doing without being drowned out by your own obsessiveness?