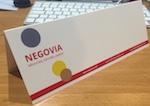 Back home, I find a box of printed name place cards for my seminars waiting for me.  The design is great and the printer has done a fantastic job that exceeds my expectations.
I take a photo of them for my husband who is on a business trip abroad. He emails straight back agreeing that they're great.
While I'm at it, I think it would also be a good idea to post the photo on Facebook along with a link to the design agency. But I can't find their Facebook page anywhere. Darn!
I send a message to my contact, who is also a friend, telling her that I can't find her agency on Facebook. She replies "you can't have been looking that hard!"  Okay, she stuck a smiley on but suddenly I really don't feel like posting the link to her agency on my wall anymore!!!
My friend can't have known I was going to do some advertising for her. Perhaps I should just choose not to get upset about it and advertise her company in spite of her little joke. The result? 1) I'm not upset and 2) she feels bad for winding me up…oops!
How many times have you been annoyed,   or even upset, by a joke? What if you stayed above it all and let the "oops" factor work its magic on the other party?