People often ask me where I get my ideas for my Bubbles of Happiness and how I've managed to come up with a new idea every Sunday for the past seven years.  I tell them that I don't know, but that I see everything that happens to me in life as an excuse to write a Bubble.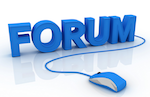 I found a better answer to the question when I looked at how my friends behave on Facebook . They seem to have periods when they're on Facebook all the time and others when they completely disappear from view. Then they appear again later and seem to be on Facebook all the time.
Why?
With my coach's hat on, I'd say that there are times when we want to share things, ask for help or make something that has happened to us official. There are other times when we've got nothing to share because everything is running smoothly in our lives. And then there are periods of silence. Periods when we don't know how to put a bad feeling, a particular situation or even our whole lives into words. So we go completely quiet.
I sometimes jokingly say to anyone who wants to listen that my Bubbles of Happiness are self-therapy. If something great, horrendous or weird has happened to me, I write a Bubble, send it to 4,000 people and once it's out there, I can move on to something else.
What about you? What would you like to express or put into words so that you can move on to something else?
Yours bubblingly,
Gundula