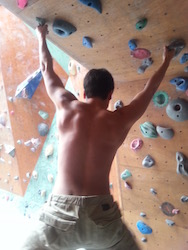 When my husband and I go rock climbing together, we always initially look at how steep the route is – generally too hard for my liking – and he quite often says: Darling, you're perfectly capable of getting up that.
When I'm hanging off the rock face about to give up, his words come back to me and I think "my husband said I could do it!!!." So I gather all my confidence and talk myself into completing that tricky move.
Having someone who believes in us is crucial. A grandmother who gives us unconditional support or even a friend or an older brother. It doesn't matter who. I'm lucky enough that it's my husband.
What about you? Who believes in you and will help you achieve all your end-of-year goals?