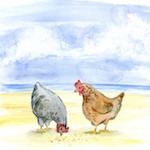 The village idiot thinks he's a grain of wheat. He receives psychiatric treatment and is allowed to leave as he's been cured.
An hour later, he comes back in total panic.
"You know you're not a grain of wheat!" cry the psychiatrists.
To which the idiot replies: "I know that! But the hens don't!"
Isn't that something that happens time and time again in life?
Julien has finally started his diet but his friends say that he won't be able to go without sweet things.
Marie decides to become self-employed but everyone around her tells her that she needs the security of a job in a big company.
Pierre has finally decided to leave his wife but his friends insist that they make a great couple.
Our lives are full of hens like these who haven't noticed that we've changed and tell us that we are and always will be a grain of wheat.
What about you? What have you changed about yourself during the holidays that the hens around you still haven't noticed?