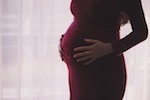 Kelly tells us that when she was finding it difficult to get about at the end of her pregnancy, her husband confronted her about her lack of activity, asking: "So what have you done all day?"  Without batting an eyelid, she instantly replied, "I've grown an arm – what about you?"
I'd love to be able to come up with a smart reply like that.
Technically, she hadn't actually grown an arm on that particular day, but she did explain to her husband that even though it looked like she was doing nothing, things had progressed below the surface.
This example could apply to most people's daily lives. We don't suddenly bring new, fantastic projects, ideas and babies into the world. We think, develop, nurture and refine most things over a certain period of time before telling other people about them.
What kind of arm are you currently growing below the surface? And what would you like to say to people who confront you about the time it takes for something to progress?