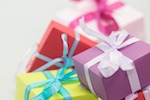 During a trip to India, we had long discussions about Buddhist teachings, especially gratitude.
I have long been a fan of gratitude exercises to celebrate small (and big) daily joys, and have now reached the next level for novices of Buddhism:
Instead of keeping my gratitude – and the satisfaction that goes along with it –  to myself, I offer it to someone else.
Obviously, this is something I do in my head and heart rather than with a gift-wrapped parcel. At first, I was dubious, and struggled to assimilate this silent gift. But with a bit of training, I've understood the additional benefit that it brings: I'm delighted about something and I pass this feeling of delight on to someone else, which of course makes me feel good.
What about you? Who would you like to silently pass your delight on to?