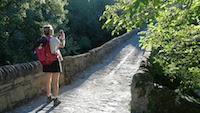 A girlfriend of mine pointed out how addicted I am to my smartphone. It's become an extension of my arm.
I noted what she was saying, and how it fortuitously coincided with my upcoming trip. I'm going to be spending the Easter fortnight walking the St James's Way to Saint-Jean- Pied-de-Port. In July, I'll be doing the "rest" of the thousand kilometres from Hendaye to Finisterre.
I've decided that I'm going to do something that I shared with you in another bubble:  "and". Each day, as I walk I'm going to be listening to my inner self and to my external surroundings. Without a smartphone. AND in the evening, I'll recount what I've heard thanks to this digital silence, in the shape of a tale, metaphor, speech bubble or anecdote.
They say that it's the journey rather than the destination that counts. For me, it's going to count and be recounted. I can't wait to find out what I'm going to hear!
To receive your daily dose of the St James's Way, sign up to the blog or follow the tale on Facebook.
What about you? How do you make your personal detox sessions enjoyable?