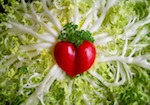 Florists invented Mother's Day, and diamond merchants, the slogan "say it with a diamond". So now half the world says "I love you" with flowers and diamonds without stopping to ask themselves why.
My father-in-law, a Michelin-starred chef, took a step back and invented his own way to say "I love you", for example with a wonderful fresh lettuce heart! My mother-in-law just needed to be able to interpret the signs!
Why shouldn't we invent our own language? What can you say with a plate of spaghetti, a screwdriver or even a peppermill?
What would you like to reinvent about your life to make it more you?