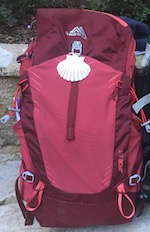 When I'm hiking, I'm sometimes overtaken by faster, younger hikers with lighter rucksacks.  On other occasions, it's me that does the overtaking, in which case I think that their rucksack must be really heavy.
The truth is that I've no way of knowing how much their rucksack weighs.  Is it full of lead or is it full of feathers? Are they whistling as they walk or are they struggling along? Are they half or twice the age they appear?
Sometimes, I can hear myself judging someone's pace, gait or particularly annoying posture.
But what do I know about how much their « rucksack » weighs? Would I be capable of carrying the same weight, real or metaphorical?  Have they just recovered from a long illness? Are they in mourning?
Which rucksack would you like to open up rather than judging someone blindly?