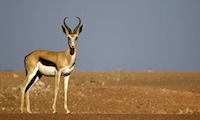 While on a horse safari, our guide, a biologist, pointed out a herd of animals and said "Springboks!", and then she added "they're delicious!" Surprised by this rather bizarre comment, I smiled at her British sense of humour. Shortly after that, she showed us some Oryx under a tree and once again commented "very good for barbecues".
I wondered whether I was just dealing with a committed carnivore, whether she had a very odd sense of humour, or whether everything here was judged on its edibility?  It turns out that in a country where there is no water to grow fruit and vegetables, the population is rather dependent on meat.
Choice has nothing to do with it. They don't hunt for trophies, or for other trivial reasons. They don't hunt endangered species. They just hunt what they need to eat.
Judging the way the inhabitants of the southern hemisphere manage drought through the eyes of people who live in the northern hemisphere, is unfair. We often need some kind of explanation to understand something that seems odd to us.
What about you? When did you judge something without taking the time to understand?