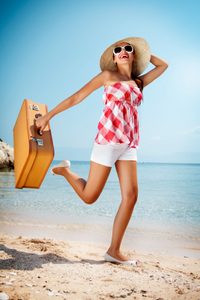 Personality tests, like MBTI for instance, often offer some sense of whether you have preference for being an 'extrovert' or an 'introvert'.
Before I understood what that really meant, I thought those words described whether you were on the talkative side like me (☺), or whether you were more on the shy side.
I've since learned that my definition was too simplistic.
In fact, being talkative – or not – isn't the defining feature of extraverts or intraverts. What those words were meant to describe was the way different individuals charge their batteries. There are those who recharge in contact with others (extraverts) and those who need to be alone to gather strength (take a wild guess…). This means someone who seems like an extraverted talker might actually be an introvert who needs time alone on the top of a mountain to re-energize, and that someone who seems quiet can actually be an extrovert who needs the presence of others to resource themselves.
Independent of whether you have an extrovert or introvert preference, what is important is that you know how you will use the summer months to charge your batteries. For my part, I'll be indulging my introvert for two months so that I can be come back and regale you – in extroverted fashion – with inspiring bubbles in September.