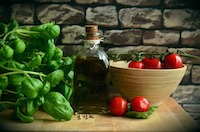 In front of me is appetizing spread of olives, cheese and juicy tomatoes all bought from local producers at a market in Italy. The sun is shining,  there's a fantastic view of the lake and I'm just so happy.
For me, that's luxury. Natural produce like a tomato grown in the sun without pesticides, a clean and functional holiday apartment, and deliciously tasty locally produced olive oil.
What if luxury were simplicity? Knowing how to enjoy the simple things in life? Instead of having a wardrobe full of clothes that you never wear, why not just keep the ones that make you happy? Taking the trouble to create meals with produce that makes your mouth water? Being somewhere where you find the view magical?
Luxury isn't necessarily five-star hotels and major brands, it's more about your own ability to enjoy the things that inspire you.
What simple thing is your personal luxury?