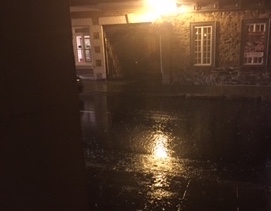 My husband did warn us that we would get soaked and that a storm was forecast for 9pm, but the kids and I were dying for an ice cream. So we set off into town on foot.
Ice creams in hand, we emerged from the ice-cream parlour just as the skies opened.  The kids ran off down the road while my husband and I took shelter from the storm on the entrance steps of a house.
Huddled up together we watched the downpour, the drenched tourists running here and there (carrying their flip-flops) and babies opening their mouths to catch a few drops of rain!
Instead of grumbling and saying "I told you so", we just enjoyed this moment of togetherness. No one blamed anyone else. No one needed to defend themselves.
When I look back on it, I feel that it was one of those magic moments when the weather just doesn't matter. It was raining. Full stop. We just accepted it instead of fighting it.
When was the last time that you fought against something that was happening instead of accepting it and enjoying the moment?