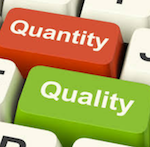 Former Russian president Nikita Khrushchev believed that quantity generated quality. In a country like Russia this could mean the number of medals in different sports, or geniuses in the arts, music, chess or scientific world.
You're more likely to find a genius in a country with a population of 146 million than in a country with a population of 67 million.
This doesn't just apply when you want to increase the probability of something happening. It also applies when you take into account the number of attempts you need to make before achieving success. How many times do you need to revise irregular verbs before you've learnt them by heart? How many times do you need to serve in tennis before you serve aces? Or cook macaroons before they look like the ones made by La Durée, the famous Parisian macaroon-maker?  Or perfect a presentation before you can use it in public?
Like most of us, I'm not a genius at anything. But by repeating the same things, I've become a specialist in many fields.
What about you? What can you do in greater quantity in order to achieve quality?