My grandmother's apron was a bit like Mary Poppins' bag. You could find clothes pegs, tomatoes from the garden, dead leaves picked out of plant pots and all sorts of other things in it.
It was like a Swiss army knife for housekeeping. It was used to dry hands, wipe tables and children's tears.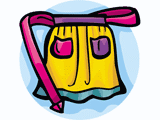 Every morning without fail, my grandmother used to tie it round her waist and would only take it off to go into town. It protected her clothes but it did so much more than that.
The apron wasn't very hygienic and it definitely wasn't CE certified, but it had its own incomparable smell of earth, soap and cooking that reminded me of the old days.
Whenever I walk to the shops instead of taking the car, or go to the local grocers' instead of the supermarket, it reminds me of the old days too.
My grandma's MacGyver apron and walking into the shops are journeys back into the past when I connect with the real me.
What about you? What simple thing would you like to bring back?